Preparing for your photo shoot can be a nerve wracking proposition that brings up a lot of questions.  You want to look great for your photos and I'm here to help you do that with a list of tips and tricks to make the most of your time in front of the camera.  
​​​​​​​
When considering what to wear for your shoot, I recommend solid colors mixed with neutrals that contrast nicely,  then throw in a little personality.  As you can see in the photo to the right,  Matt is wearing a solid navy jacket, which contrasts beautifully with his crisp white shirt. The tie and the pocket square are a chance for him to show a little more of his personality and his playful side comes across in the photo.  This outfit also gives him two looks as he can take off the jacket and create a different image with just the white shirt  and tie.  He could even have another jacket and tie handy to make a completely different look. 
I recommend staying away from bold, overly colorful prints, unless they are a small percentage of the outfit.  They will overpower the photo and overshadow your personality.  Solid colors work well,  just make sure that they are complimentary to your skin tone.  Shoot day is the day to dress in the color that you are always complimented when wearing.
Jumoke is wearing a rather busy print in the photo below, but the dress is very neutral and compliments her hair and skin tone.  The colors and print do not compete with her natural  beauty.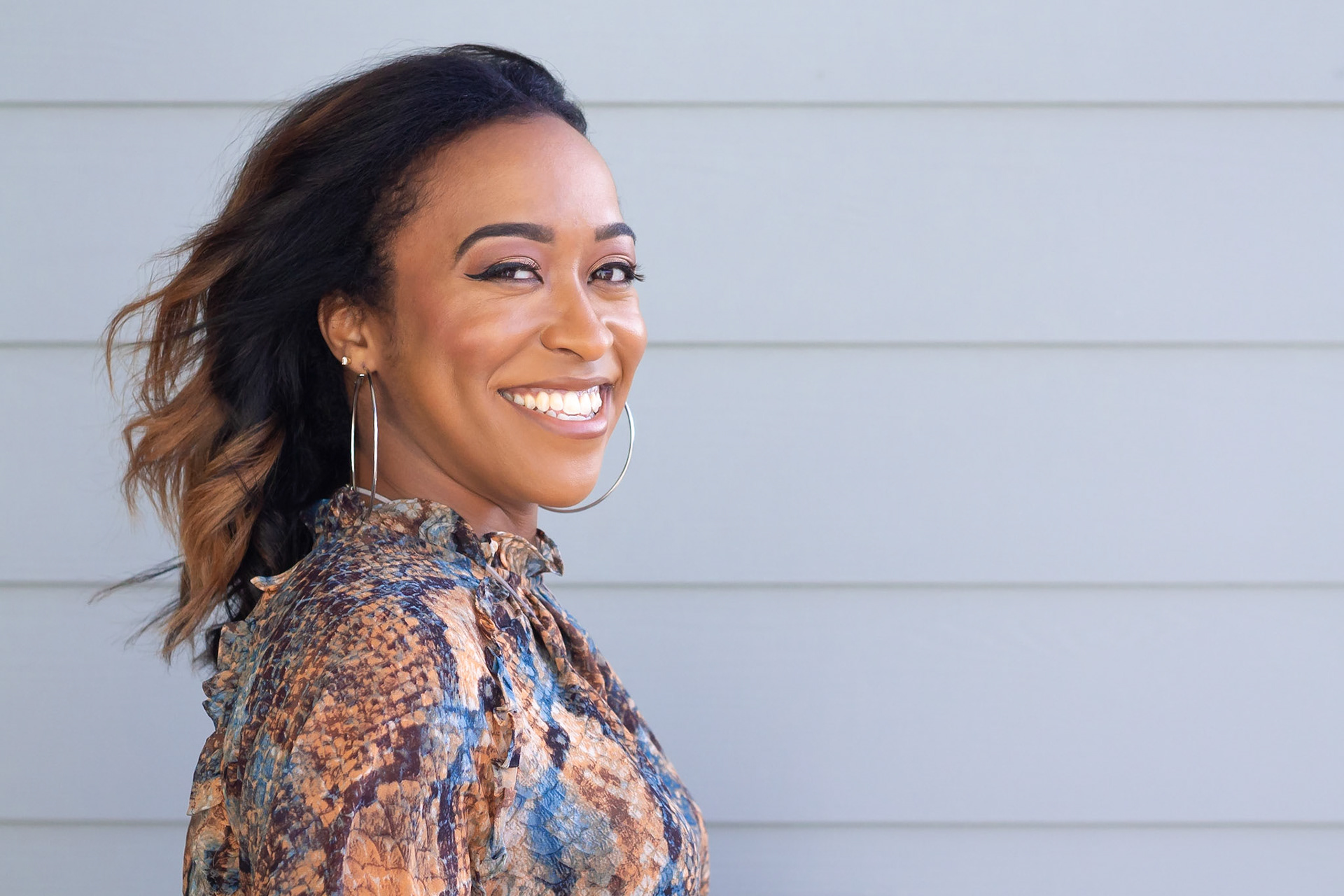 Make sure that your clothes fit well, if a piece of clothing is too tight or too baggy, it will look off in your photo.  Beware of peek-a-boo undergarments,  clothes that are prone to wardrobe malfunction, and clothes that may hug your curves too tightly.  Choose an outfit that you feel comfortable in and gives you confidence, those feelings will come across in your photos.
Take some time before the shoot to think about what you want your image to convey. Confidence is a given, but do you want to be professional, strong, edgy, perhaps you want to look welcoming or trustworthy.  These decisions can play a part in your clothing choices as well as the in the poses and facial expressions you choose.  Be sure to let your photographer know what traits you want to portray the most in your photos.
A great trick is to snap s

ome cell phone pics of yourself once you've decided on an outfit.  You can usually tell if its a winner when you see yourself in a photo.  If you are still on the fence, send it to a good friend with an eye for design and get a second opinion.
You simply won't be as happy with your photos if you didn't put your best face forward on the day of the shoot.  So go ahead and spend some time doing your hair, shaving, plucking those eyebrows and applying makeup.  Be sure to bring your essential grooming supplies with you on the day of the shoot for last minute touch ups.  Some examples may be, powder to touch up skin shine, lipstick, a hairbrush, toothbrush, etc.  You may not use your supplies, but if you need them, you'll be happy to have them.
How fun, you get to play model today!  It's not often that we get to have fun in front of the camera so showing up with a playful attitude and a desire to be a part of the process is going to make the shoot a much better experience for all.  Your photographer will give you plenty of direction and posing ideas, but if you come with a few poses of your own the shoot will feel much more collaborative.
Remember, a great headshot not only captures your outer beauty, but it lets your inner beauty shine as well.  Your personality will only  come out for the camera if you stay relaxed and open. 
Prepare the night before to allow the morning of your shoot to be calm and relaxed.  Plan your clothing, your route, your timing and make sure you have your photographer's number in your phone should anything unexpected occur.  Try your best to be a few minutes early to allow for any last minute grooming touch-ups and to make sure you get the most out of your time in front of the camera. 
Most importantly, have fun! You're beautiful!